Post by Da Robot on Jan 23, 2016 18:24:37 GMT -5
Saw this via r/Nintendo yesterday
(originally from Nintendo World Report forums)
In 2003 Nintendo was going to release e-Reader cards based of the G&W games. (If you brought the e-Reader you would have already gotten the Manhole card bundled with it).
There was going to be three different versions of the cards.
- Classic G&W games
- Color G&W games
- Collectors (which uses Mario characters)
I'll admit I'm still confused if the "color" versions are just G&W with color or taken from G&W gallery series with the Mario characters instead. But the Collectors series has Mario characters so wouldn't that make that last point invalid?
I thought originally that the "Color" and/or "Collectors" versions of these games might have ended up appeared in G&W Gallery Advance, but that was released in 2002 while this is 2003.
Following pictures are from the a NA K-Mart catalogue (from 2003) scanned in by a NWR forum user.
Final packaging for G&W e-Reader cards.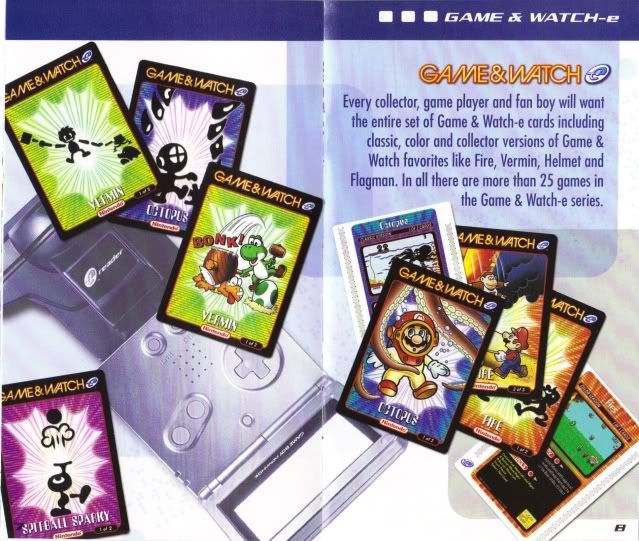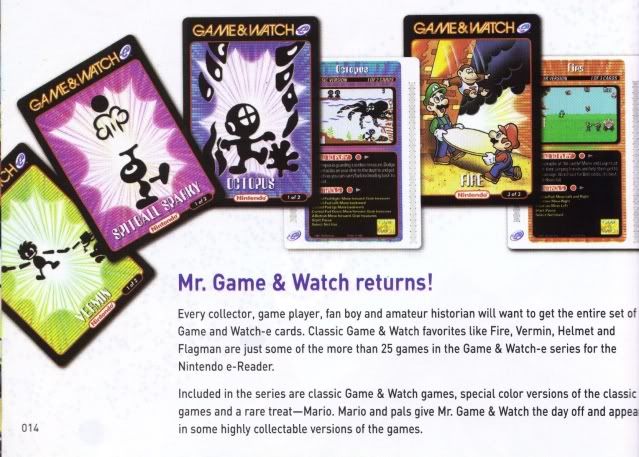 Interesting to see them mention
"Mr Game & Watch returns!"
They mention a Nintendo Power magazine talking about them as well but don't say the number (but did come out in 2003 so that narrows it down).
I thought this would be a good thing to post since, I don't think many have heard of this and these cancelled e-Reader cards aren't mentioned on NinDB (but admittedly the e-Reader was never released there).