Post by Nester the Lark on Aug 5, 2013 14:07:24 GMT -5
This thread is a continuation of the discussion on gender-ambiguity in games from the
Nintendo All-Stars thread
.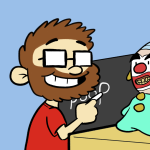 It is likely that the stark gender distinctions present in many western languages simply do not exist in many Eastern languages, and this has a knock-on effect when it comes to how gender is more widely perceived by society. Japan and several other Asian countries are notable for their more relaxed attitudes to gender roles. Think Taiwan.
I'm sure there's a load of research out there on this.
I'm more curious as to how Mach Rider's massive pectoral muscles transform into boobs. Is it a padded muscle shirt?
So, you're saying that since Japan (and other Asian languages) doesn't necessarily use different pronouns to refer to males and females, it creates an attitude that naturally extends to deliberate gender-ambiguity as a trope? I guess I can see that. In Western cultures, it's definitely considered offensive to refer to someone as "it."
I don't really see it as a matter of gender roles, though. A woman could be masculine or a man could be feminine (although the latter seems to be more frowned upon in American society), but that doesn't necessarily mean you can't physically tell the difference between them. I'm still curious as to why a character would be created specifically without an identifiable gender.
I was wondering if it was a joke because I honestly don't know if it's meant to provoke an uncomfortable reaction or not. It certainly seems to in Western society, hence why such instances are usually downplayed or censored in localization.
Just check out Steven Tyler's reaction at the beginning of Aerosmith's "Dude (Looks Like A Lady)" video. (Is there some subtext in that he seems to be wearing a Japanese kimono in the rest of the video?)