Post by Leon on Oct 23, 2007 23:37:34 GMT -5
As far as references go, Fire Emblem is one that doesn't care to much about other series, though there are definite in series references.
Mystery of the Emblem
I find this a weak one, but there is very rare sword in the game. This sword is known as the
Master Sword
. This sword is being carried around by a wandering warrior that fights Marth's army.
Genealogy of the Holy War
Falchion
The Tyrfing sword used by Byron/Sigurd/Celice resembles the Falchion from the first three games.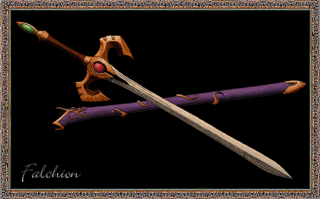 Narga
This dragon god is a reference to the king of dragons from Akaneia.
Jake
A guy that Amid and Linda meet at the Thracian River is a cameo of the shooter Jake from Fire Emblem 1.
Anna
This version of Anna is also Jake's girlfriend like the Anna from FE1.
Arena Music
After about thirty seconds of waiting in the arena, the map music from Fire Emblem 3 Book 1 plays.
Dark Dragon
Loptous has the same design as Medeus does in FE3 Book 2.
Blazing Sword
Jake and Anna
Once again these character reference to their roles in FE1 if you visit Anna's Pub in Chapter 16x/17.
Songs
47: A Knight's Oath (Victory theme from FE1/3)
61: Stratagem (Enemy map theme from FE3)
95: Beneath a New Light (Map theme from FE6)
96: The Path to Greatness (Map theme from FE6)
97: In the Name of Bern (Dragon General's of Bern theme from FE6)
Two songs from past games are given through use of the Mario Kart: DD disk.
99: Legend of the Dragon God (Gato's Theme in FE3 Book 2)
100: Royal Palace of Silezha (Theme that plays is Silesia Castle FE4)
Lyn and Hector
This one is a bit debated, but it is thought that Lyn and Hector's relation is meant to be a reference to the relation between Ayra and Lex from FE4. This is more significant through the fact that they have a special song only obtainable from supports.
81: Respite in Battle
Path of Radiance
Music
11: Side Battle (Chapter 10 theme from FE4)
30: Vow (Victory theme from FE1/3)
Kurthnaga
When broken down, Kurthnaga's name becomes a refrence to two characters from past games.
Kurth, the prince of Barharra from FE4
Naga (A different translation of Narga) a dragon used in FE1,3,4,5.
Those are just the ones off the top of my head. I'll look for more later.