Post by Johans Nidorino on Jun 11, 2011 22:19:40 GMT -5
HISTORY OF POKÉMON AND SUPER SMASH BROS.
In the beginning, the Pokémon franchise was young. There was the main Game Boy games,
Pokémon Red and Green
, which came out in Japan in 1996. There was the anime, the TCG, the Japanese Pokémon Stadium, Pokémon Snap, and a few cameos
here
and
there
.

And that big idea, Super Smash Bros., came out, in year 1999. It was an awesome game. Wow, Mario fighting Link and Donkey Kong and Fox and Samus and even Kirby! Infinite fun! As a bonus, they put Pokémon among that elite of video game characters. Not only with Pikachu, but also with the immediately unlockable Jigglypuff and a bunch of stage and Poké Ball Pokémon. The latter concept helped define Smash (and would be expanded eventually with the introduction of Assist Trophies).

In that same year, a continuation of the Pokémon franchise was being brewed to the delight of many.
Pokemon Gold and Silver
. More creatures, better mechanics, and the technology upgrade granted by the Game Boy Color. Following it came more side games, more anime chapters and movies, more TCG sets, etc.

And same as with Pokémon, when the project Dolphin was unveiled as the Nintendo GameCube, a new and unexpected chapter in the Super Smash Bros. series was revealed to be planned as a launch game.
It was an awesome game!!
If you weren't a Nintendo geek/nerd prior to 1999, or if you weren't prior to this point, then you'd become one at this point. Tons of content related to Nintendo's history appeared in the game, from the characters, to the stages, to the items, to the trophies and even the soundtrack.
From the previous chapter of Smash Bros. to the new one, it sounded natural to use elements that appeared in between. Like a Majora's Mask stage for Zelda, a funny rap from DK64 for a Donkey Kong stage, a new Fire Emblem character, etc. For Pokémon, the update consisted in the appearances of multiple Pokémon of the first and especially the second generation: the legendary beasts, the Johto starters, the Johto mascot legendaries, Celebi, Wobbuffet, Togepi, etc., and Pichu as a playable character, plus a Johto medley as part of the soundtrack. The stellarity of Entei and the one of the Pichu Bros. from the anime were mirrored in event matches.
This was in year 2001. 2 generations of Pokémon, the new and the old, and 2 Super Smash Bros., the new and the old.
And... this is when things stopped being so linear, because the following event happened just 1 year after.
2002 came, and with it, a third duo of Pokémon games,
Ruby and Sapphire
, with lots of new species from a new region; new biologies, new gimmick Pokémon, new legends. Moreover, it seemed to be a strong effort to be a "first generation" for the new generations of players, with no initial availability of many Johto or Kanto Pokémon.
I personally liked it a lot. The Pokémon began looking differently and not necessarily bad. We got a lot of new ghosts, cool-looking birds, mammals, reptiles, sea Pokémon, plants, new martial artists, and even Pokémon from outer space. Some were very peculiar, like the invisible Kecleon, the shape-shifting Castform, the 1-HP Shedinja, the mortal enemies Zangoose & Seviper, the rare Milotic, the mutually dependent Plusle & Minun, and the existence of exclusive moves for the starters (Leaf Blade, Blaze Kick, Muddy Water), to name a few examples.
The Nintendo GameCube had an average lifespan (5 years from release to the release of the next console), and a new chapter of the Smash series wasn't going to be a launch title for the successor system, the Wii.
So a fourth Pokémon chapter appeared before a third Smash; 4 years after the third generation.
Pokémon Diamond and Pearl
.
The game's story was epic; this time, the villain wanted to possess the power of deity Pokémon that shaped the universe in order to create his own, new universe with himself as the ruler. 7 of all legendaries were tied to this myth.
The total of Pokémon wasn't that big this time, and a significant fraction of them were evolutions or pre-evolutions of Pokémon as old as first-generation ones.
And yet, there were new ones that stood out, like fighting Pokémon that used spiritual force offensively, Pokémon whose shapes were dependent on their location, or Pokémon that evolved only when they were of a specific gender.
This was in year 2006. This was looking exciting for us Pokémon fans, because there were a total of two Pokémon generations to make cameo appearances. On the other hand, though, the amount of playable characters would continue to be limited, no matter how many new candidate characters were there, combining both generations.

... And that's actually how it was when Brawl came out, in year 2008. A mix of the classic starters was one Pokémon character, and as the only playable modern Pokémon, it was one from the last generation, Lucario. As region-themed stages, the only one was from Sinnoh. All of this, though, was completely natural if you consider it's good to have the earlierst and the latest content in your crossover game.

And to be fair,
there was a lot of third-generation content in the game
: all 3G legendaries (minus the golem trio, which doesn't have many fans anyway), one of the legendaries being a story mode boss, several regular Poké Ball Pokémon from that generation, very good songs from that generation, trophies from that generation's Pokémon, stickers, and whatnot.
But still, no third-generation playable
Pokémon
or
stage
, objects that are without doubt the two most important in the Smash Bros. series.
Moving forward, 2010 saw the birth of the fifth Pokémon generation, a totally new generation, and the biggest one so far regarding Pokémon species.
Pokémon Black and White
. The franchise got a new restart, with no wild classic Pokémon being available during the main quest, a new region basis that wasn't a Japanese region, new mechanics, and a lot of new details. The story was intense and epic, even unpredictable. Pokémon Black, White, and the imminent "third sibling" version, will have a lot to contribute to a potential fourth Smash game...

... which was talked about in just days ago! That was one of the most exciting moments in Nintendo's E3 2011 conference.
This year's E3 was comparable with the one in 2005. Because although the game wasn't shown (its development hasn't even begun), it was announced. It'll take more than 2 years for it to be released if you know your Nintendo history.
Let's set Super Smash Bros. 4 (3DS & Wii U) on Q1 2014, and this is what the semi-final timeline looks like.
So it's expectable, and wished for, to have content from the fifth Pokémon generation in the next Super Smash Bros. game.
I was just wondering... Is there any hope for that generation that was totally skipped regarding playable characters and stages? That is, third generation (Ruby, Sapphire and Emerald, set in Hoenn)? I mean, this generation had a lot of fans through the years and still have them. And in inventing excuses for it, I can come up with this one, albeit a bit puny:
Yeah, as you may know, Game Freak loves to delight us with nostalgia ever since 2003-2004 when they remade the very first games, Pokémon Red and Green, as "Pokémon FireRed and LeafGreen" for the Game Boy Advance. The tradition continued during the fourth generation with remakes of Pokémon Gold and Silver as "Pokémon HeartGold and SoulSilver" for the Nintendo DS. Every generation, the flagship games of two generations earlier is being remade, and there's no reason to believe it won't happen this time with Ruby and Sapphire. It's hypothetical at this point, but since we're making up hopeful reasons for Smash, let's assume it'll happen, and that it'll happen in a Japanese date of 2012 (if before "Pokémon Grey") or 2013 (if afterwards).
The series nostalgia could be mirrored somehow in Super Smash Bros. on hand with the potential Ruby and Sapphire remake.
FORGOTTEN CHARACTERS FROM THE THIRD GENERATION
- The starters.
You never had another set of three starters where you could envision all three of them as fighters. OK, Brawl showed us even Ivysaur was able to fight, but you don't even have that initial skepticism with the likes of Blaziken, Combusken, Sceptile, Grovyle, Treecko, Swampert, or Marshtomp. Mudkip could pass, even.
The "Pokémon Trainer" character mix in Brawl opened a door for them, too, as it showed an impartial way to include starters as playable characters.
I remember seeing Blaziken as a popular playable wish prior to Brawl. Moreover, it'll sure become a popular Pokémon in online tournaments in the following years thanks to the buffing it recently received in the game (Speed Boost ability, which increases its speed each turn). Blaziken has even become a banned Pokémon in standard online rules due to its overpowering.
Sceptile, Grovyle and Treecko can be thought of as characters of the "swift and nimble with low resistance" category. They could even cling to walls; even climb them since they're geckos. Grovyle had its own stardom recently in the fourth-generation-based Mystery Dungeon games.
- Plusle & Minun
Nowadays, double battles aren't a novelty, but the concept continues to be expanded with triple and rotation battles. Not sure if it's still desirable to continue having Pikachu look-alikes, though, after the stigma caused by Pichu. Still, if there has to be a Pokémon tag team, these rodents are the first ones to come to mind.
Make them switchable, as switch-outs are a common strategy in Pokémon battles and a
main
strategy in rotation battles.
- Deoxys
A Pokémon from outer space that was also of rare availability, and whose peculiarity resides in that it can transform to become better offensively, defensively or speed-wise.
Deoxys could have a lot of move possibilities and strange animations and sound effects.
FORGOTTEN PLACES
Among others, the tropical land of Hoenn had, as landmarks:
- Mt. Chimney, a site of conflict with Team Magma.
- Sootopolis City, where Groudon and Kyogre battle as seen in Pokémon Emerald.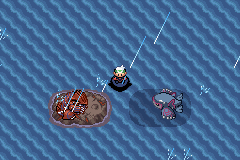 - Sky Pillar, home of Rayquaza above the Hoenn region.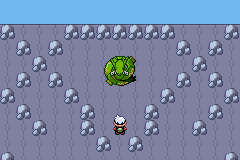 ---
Any other fans of Hoenn out there?
---
EDIT 1
: Junichi Masuda replied in
a tweet
about possible Ruby/Sapphire remakes. October 10th, 2011.
EDIT 2
: HOENN FINALLY CONFIRMED. May 7th, 2014.