Post by Da Robot on Jan 31, 2014 18:11:08 GMT -5
I'm surprised by the fact that it's been two days and no one has mentioned this news (from the recent investor briefing)
This is quite a big announcement with a lot of info and a lot of ways to interpret it,
so I hope you read at the links first.
www.nintendolife.com/news/2014/01/satoru_iwata_announces_a_quality_of_life_platform_business_of_non_wearable_technology
Here's another summary
www.neogaf.com/forum/showthread.php?t=760139
And here's the slides from the presentation
www.nintendo.co.jp/ir/en/library/events/140130/index.html
---
Defines entertainment =improving quality of life QOL in the next 10yrs is to improve this, first area is health, want to find blue ocean

QOL could do wearable devices but wants to leapfrog that to non wearable devices by Nintendo, want to propose healthy structure for day2day

Thinks there will be synergies between games platform and QOL platform

QOL platform with roll out in April 2015,integrated with games, business plan details in 2014, business impact in fiscal year mar 2016

Mr. Iwata now going into how Nintendo is going to expand into new fields. He looks back the past 10 years of his tenure, saying he's had some success in expanding the gamer population by bringing Wii and DS to people who may not have played games in the past before.

What's Mr. Iwata going to focus on for the next 10 years? The main theme: enhancing the quality of life through entertainment. The key word is health, Mr. Iwata says. Citing a flood of wearable devices already on the market, he says Nintendo is trying out something completely new: non-wearables to monitor your health.

For those of you wondering what non-wearables are, Nintendo will unveil the details of its new business during 2014 and launch it for the fiscal year through March 2016. Mr. Iwata's speech is now over. And now the Q&A session is starting.

Source
www.neogaf.com/forum/showthread.php?t=760097
From the sounds of it some of the ideas that go into this QOL stuff may work thir way back into he gaming side of things (possible return of the vitality sensor?)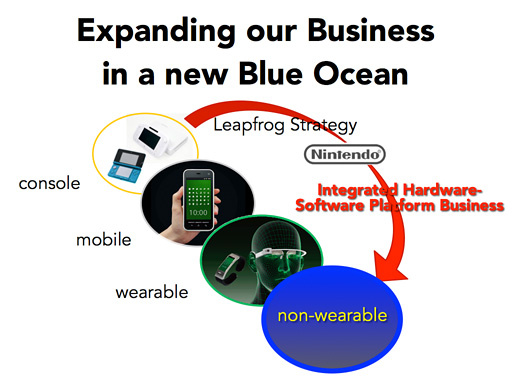 But the idea seems to be a small dedicated platform for this kind of QOL content to be released next year?
Also a game using the Near Field Communication of the Wii U will be unveiled at E3 this year (about fucking time)