Post by Evie ❤✿ on Mar 30, 2021 12:50:33 GMT -5
This new album is a collection of works by Hirokazu Tanaka (Nintendo composer and president of Creatures); curated by Yusuke Sato that never left the conception stage, or was restricted to demos. Disk Union are also offering a limited bonus; where you can get a cassette tape with handwriting and two "secret" recordings.
Since this only released on March 24, 2021; I don't know if many people who don't live in Japan have it yet, or if it has even been delivered to anyone yet.
This said, Disk Union have a YouTube video of samples, where you can very briefly get an idea what the songs were for. Some people have compared them to EarthBound, Kid Icarus, the original Pokémon anime among other games.
I don't know much about Nintendo demos, but Forest of Illusion identified Glorious March Demo to be from Nintendo NES M82. I asked Fry and he said one of the songs was familiar too.
Another person from Forest of Illusion's Twitter thread identified the first one to be a prototype of the original Pokémon anime OP, with what are possibly draft/temporary instruments.
The Disk Union page in fact has a track list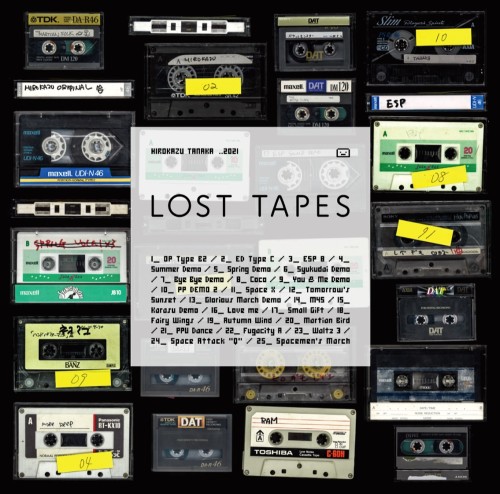 www.siliconera.com/metroid-composer-hirokazu-tanaka-releasing-demo-lost-tapes/
game.watch.impress.co.jp/docs/news/1306537.html
diskunion.net/jp/ct/detail/1008258828
Here's the track list (I posted this elsewhere too; based on the Disk Union list), but it probably omits the secret tracks in the limited offer.
1. OP Type B2 [precursor to the original Pokémon anime opening theme]
2. ED Type C
3. ESP 8
4. Summer Demo
5. Spring Demo
6. Syukudai Demo [宿題, shuukudai means "homework"]
7. Bye Bye Demo
8. Coco
9. You & Me Demo
10. PP Demo 2
11. Space X
12. Tomorrow's Sunset
13. Glorious March Demo [from the Nintendo NES M82 kiosk demo)
14. M45
15. Karasu Demo [karasu has multiple meanings; such as "crow", "dry up", "to exhaust". Crows and Spiteful Crows are also enemies in the Mother series ]
16. Love me
17. Small Gift
18. Fairy Wings
19. Autumn Wind
20. Martian Bird
21. PPU Dance
22. Fugacity A [it possibly refers to fugacity; a chemical thermodynamics term describing a partial pressure ].
23. Waltz 3
24. Space Attack "Q"
25. Spacemen's March
Here is the sample video courtesy of DIW by diskunion:
The Diskunion page says tracks 1-10 were for the Pokémon anime, 11-16 are private or demo music, and 17-25 were chosen more mindfully; and are related to PSG and PCM sounds and organised with a theme of "time tripping" and the concept of expression beyond "chord and keys", but overall to capture the moment [at the time?].
There is even more too; according to the Siliconera page:
"The base product will include a 25-song CD and booklet. Included in the tracklist is an early recording of the hit theme song "Aim to Be a Pokemon Master" from the Japanese version of the Pokemon anime. The booklet will also feature a lengthy 7000-word interview between Sato and Tanaka."
Not knowing Japanese very well, it would be very interesting if this interview was translated (in fact there seem to be lots of books like this by Nintendo developers e.g. Shin Game Design by Satoshi Tajiri; most people in English speaking countries seem to be only aware of the English sources).
So; what are our thoughts on this? Does anyone recognize any other tracks?