Post by Johans Nidorino on Feb 20, 2011 1:04:56 GMT -5
New analysis regarding a possible sequel to Brawl.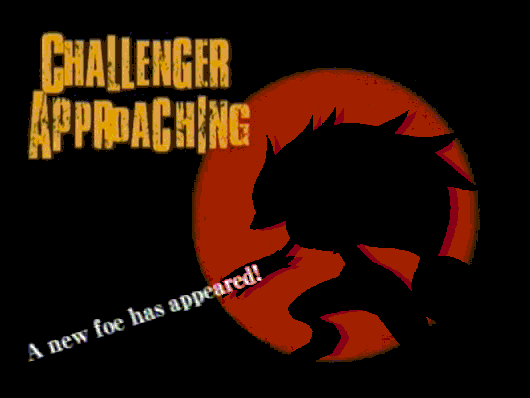 This time it's about a character, from a franchise that offers loads of them...
Pokémon
. It's the Pokémon Zoroark, whose movie was localized and shown a few days ago on the American Cartoon Network, and one that you'll be able to unlock in Pokémon Black and White only after transferring one of the special Raikou, Entei and Suicune obtainable in game stores and via Nintendo Wi-Fi Connection.
1. WHY ZOROARK?
Any Pokémon with significative roles in the games and the anime is a good candidate to be playable in a crossover fighting game. It has been shown repeatedly in the Super Smash Bros. series, which includes star Pokémon from the contemporary generation of Pokémon games. In addition to Lucario, the likes of Latias and Latios, Jirachi and Deoxys (protagonists of movies 5 to 7) have had their presence in the game.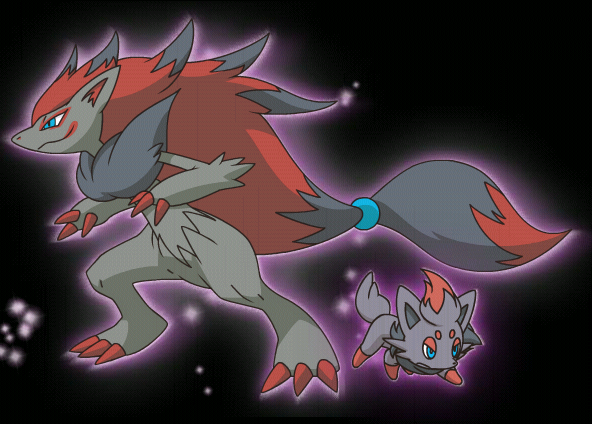 Zoroark has a Smash-worthy anatomy and has been given the spotlight as the first fifth-generation Pokémon revealed to the world. If a newer (sixth) generation does
not
appear before a theoretical Smash 4, then Zoroark could become a playable character.
2. HOW: PRIOR TO BATTLE.
The specialty of Zoroark's character are illusions. As a kitsune, Zoroark is able to pose as a being of a different shape. Wouldn't you want to make the most out of this? Let's assume you do.
If you wanted, Zoroark could take the form of any other character in the game, from the tiny Kirby to the giant Bowser. Just like in the Pokémon video games and alternate media, Zoroark could first appear on screen posing as them, even copying their entrance animation.
Should the player have freedom to choose what would Zoroark appear like, though? Or should that be random? I'd go with the former, to mirror the same freedom from the Pokémon games and to be able to trick your opponent's minds into believing you chose this badly slow character or that another intimidating one.
If I were to take part in the game's design, I'd make it so, at the character selection screen, any player is able to choose "Zoroark disguised as n character" by pressing certain button + A on that n character's face. Then, the announcer would shout n character's name, that character's image would be displayed as chosen, you could even change their colors prior to the battle, etc., etc., just like the actual character. Except that, secretly, it's Zoroark in disguise.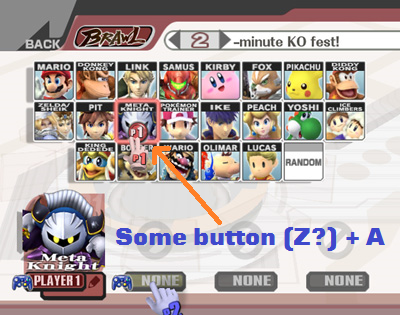 NOTE:
There could be an icon for the true Zoroark as well. That'd make the player use Zoroark without a disguise from the beginning. Moreover, it'd also give more Pokémon the chance to make cameo appearances as illusions in Zoroark's entrance animation, especially if they're rare/legendary Pokémon that couldn't be given a different role in the game (there's never enough cameos for Nintendo fans like us!).
3. HOW: MOVEMENTS DURING BATTLE.
As mentioned earlier, to keep the surprise for longer, Zoroark's entrance animation could be the same as the mimicked character's (Mario jumping out from a warp pipe, Fox McCloud landing from his Airwing, etc.).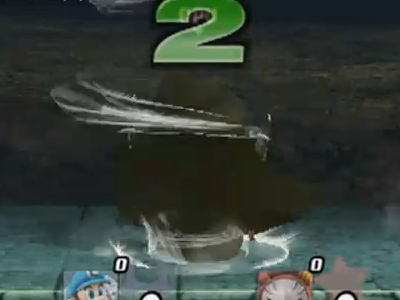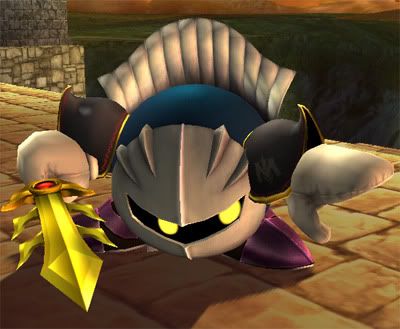 After the battle starts, there more than one possibility on how could Zoroark work:
a) Copying the moves of the mimicked character.
b) Use the mimicked character's model to perform Zoroark's animations.
I'd choose approach b as much as possible. In the Pokémon video games, Zoroark is not able to use any other moves than its own species can learn, even while transformed; i.e., the disguise is just visual.
So, if using that approach, the rest of characters would need to get additional animations to perform Zoroark's moves (or use some of their own ones that can fit). That'd be a cost to pay in exchange for consistency.
Zoroark using a claw attack under Meta Knight's disguise.
4. HOW: THE END OF THE ILLUSION.
In the Pokémon games, a Pokémon with the ability Illusion returns to its actual shape as soon as it gets hit by even the weakest attack.
In Smash, doing it that way for Zoroark would make the illusion not last enough, though. It'd be rare that the player is so good, the character remains at 0% damage.
Maybe it should be done so the character returns to its actual form:
a) After reaching certain damage percentage, such as 100%
b) Or after being knocked off the stage once.
5. WHAT MOVES?
It'd be the first time a Dark-type Pokémon becomes playable in Super Smash Bros. As such, Zoroark could be given special moves based on foul play and deception. I'd suggest stuff like:
Up Special Move
:
Substitute
A move worthy of ninjas. In appearance, Zoroark becomes a victim of inertia (being sent flying, being in the air falling, standing, etc.). Zoroark is revealed to be a decoy, the actual Zoroark appearing somewhere else ready to attack. Where does Zoroark reappear is controlled by the user.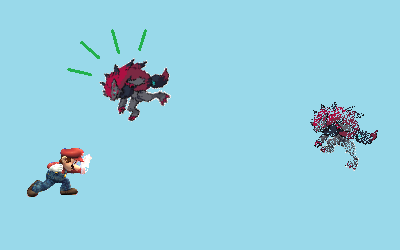 Neutral Special Move
:
Sucker Punch
A melee attack that is stronger if the opponent is drawing close.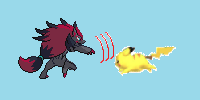 Forward Special Move
:
Faint Attack
Zoroark prepares a claw attack similar to its forward Smash Attack (even chargeable like a Smash Attack). When releasing the button, Zoroark disappears and appears attacking from a different position.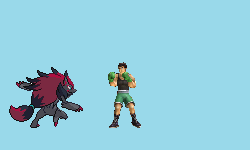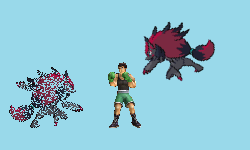 Down Special Move
:
Night Daze
Zoroark's signature move is a burst of dark aura directed at the ground to damage nearby characters. If performed while standing on the ground, it covers Zoroark in an opaque aura for a brief instant.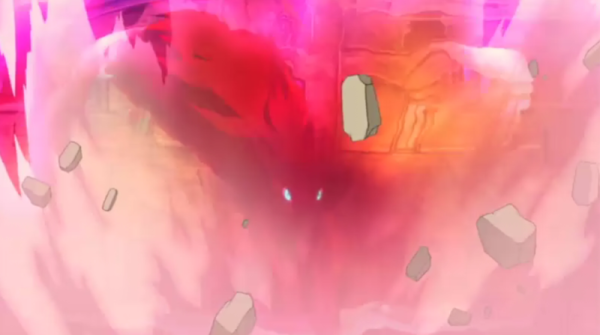 ---
And that's what I've come up with for Zoroark.
As mentioned before, the sixth Pokémon generation could come out earlier, giving better candidates for the spot. But this shows how interesting could this character be otherwise.
He would at the very least be a summonable Pokémon, so prepare yourself for the cunningness of this illusory fox Pokémon.