Post by parrothead on Jan 27, 2011 21:10:08 GMT -5
This isn't even an all-Nintendo celebration like Smash Bros. is either. It's a crossover with another company. When approaching what kind of characters should be included you need different sensibilities.
It doesn't have to have a lot of obscure characters. At least one will do.
Some of the least known playable Capcom characters that appeared in Capcom's VS. series are Son Son, Captain Commando, and Saki Omokane (Quiz Nanairo Dreams; also appeared as a helper in MVC1 and as a card in one of the SvC card games). Some appeared as helpers like Lou & Siva from the two games in Three Wonders for example.
The Son Son arcade, according to Stuttering Craig at ScrewAttack, is extremely difficult. Despite the arcade version being released worldwide, the NES port was only released in Japan. Even though there were some home computer ports, most gamers focused on the NES in the '80s.
For Captain Commando, despite the futuristic set-up and humorous characters in the beat 'em up arcade, the actual gameplay is almost completely identical to Capcom's other beat 'em up Final Fight, and does little to set itself apart. It even takes place in FF's Metro City, but in the year 2026. Even most customers don't want the creators to create "rip-offs" of their own creations. He never appeared in TvC and, most likely, will never appear in MvC3.
For Saki Omokane, I have no idea why Capcom added her, but
this Capcom Unity thread probably explains why
.
But of course, Capcom is a different software developer compared to Nintendo. I'm pretty sure that while Capcom listens to their fans more than Nintendo, Nintendo is usually more cautious with their development than Capcom.
But not every popular character can be added. Phoenix Wright is one example. Remember when Capcom couldn't add him, due to the size of his Japanese and English speech balloons for his popular quote "OBJECTION!" being unequal, making it impossible to add him.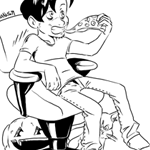 Pokemon is to SMB1 and R.O.B., which helped popularize the NES; Zelda 1 and Metroid 1, which helped sell the FDS (as well as the NES outside of Japan); and Pikmin, which helped sell the GCN. What I am asking is "why not have the 'Ice Climbers' of the GB era?" The NES classic Ice Climber was obscure before SSBM, right?