Post by Fryguy64 on Dec 1, 2009 10:51:33 GMT -5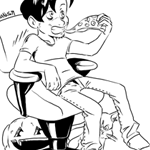 Wasn't it stated that Ganon transformed the Sacred Realm into the Dark World when he tried to take the Triforce? He obviously escaped for the timeline in the first LoZ, judging that you fight him in the regular world.
Ganondorf / Ganon was sealed in the Sacred Realm during the Imprisoning War (OoT) and transformed it into the Dark World. He then used his ability to influence evil minds to breach the divide and use Agahnim's magic to break the seal between Hyrule and the Sacred Realm (ALttP).
If he could simply escape in the time between those two stories, then that undermines the importance of one or the other. OoT didn't achieve anything, or ALttP was just that mischievous Ganon popping out of his evil realm
again
.
Of course, this is me still holding out some kind of hope that this whole thing makes sense
without
making any of the stories redundant... which following TWW and TP seems nearly impossible.
And this is why I developed my "Fan Theory" (chortle), where each of the storylines is a separate branch from the OoT/MM starting story.
OoT > TP
Ganondorf escapes the Sacred Realm, but the sages manage to stop him and supposedly destroy him. He re-emerges having manipulated Zant of the Twilight Realm to take over Hyrule, and then discards his puppet and siezes power. Link kills Ganondorf.
OoT > TWW
Ganondorf escapes the Sacred Realm, and nobody appears to stop him, so the king buries Hyrule beneath the Great Sea using the united power of the Triforce. Ganondorf emerges again many years later searching for the descendent of Princess Zelda. Link kills Ganondorf.
OoT > ALttP
Ganondorf is attempting to escape the Sacred Realm by manipulating the wizard Agahnim to kidnap the descendents of the sages that sealed him there and break the seal separating the worlds. Link kills Ganondorf.
OoT > LoZ/AoL
Ganondorf escapes the Sacred Realm and kidnaps Zelda in search of the Triforce of Wisdom, which has been broken up and hidden. The Triforce of Courage has also been hidden in the Great Palace. Link kills Ganondorf.
This is a neat little way of looking at the storylines, and I really want somebody to pick it to pieces rather than dismissing it. Yes, it means Ocarina of Time has more than just two endings, and every mini-storyline is a separate branch... but who knows how much Link fucks around with his Ocarina after the end of OoT/MM.
But it basically means the Zelda storyline IS a retelling of the same story time and again, but with slight differences. It means we don't need to find a link between LoZ and ALttP, or how TP and TWW might be related, if at all...